Dictionary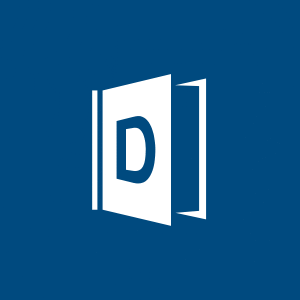 Dictionary is a free offline English dictionary containing over 250,000 words and definitions and no ads. Dictionary is ideal for both native English speakers and English learners or people studying the English language. The dictionary definitions are stored locally, and because it's ad-free there's no need for a network connection. The home page contains a randomly selected word cloud which will pique your curiosity and help you improve your vocabulary, while the search box allows you to find specific words easily. As you type, Dictionary homes in on the word you are looking for. Then you can follow the links in the definition page to get more word definitions. Wildcard characters can be used to help with word games like crosswords and scrabble where only some of the letters are known, or you have to find an anagram, or with spelling. Definitions include synonyms and antonyms which allows the dictionary to also serve as a thesaurus. The speech function helps provide the correct pronunciation.
You can see your word history and revisit definitions, or make your own list of favourite words to help build up your vocabulary. It also works well if you only have an intermittent network connection because the definitions are stored offline, locally on the device. And we managed to keep data offline without needing a massive app download. There is also a "word of the day" with our pick of the most interesting and entertaining words in the English language. Dictionary works on tablets and phones and is refreshingly free from annoying ads and paid upgrades.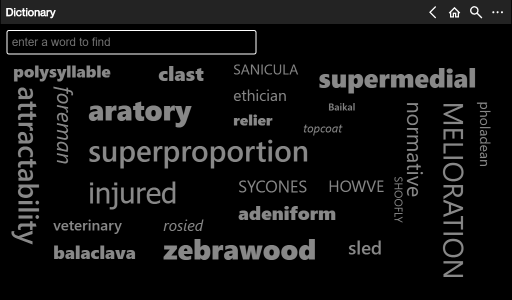 Download Links
Version History
New in Version 4.6.0
Bug fixes Reverse definition search Configurable number of search results Improved anagram search Additional content
New in Version 4.5.0
Bug fixes Sort word history and favourites alphabetically Keyboard shortcuts (desktop version) Improved search Additional content
New in Version 4.4.4
Bug fixes Additional content Word grid option using high-frequency word list High-frequency word list word of the day option Increased capacity of "favourites" to 2000 words Online search option
New in Version 4.4.3
Improved UI - now defaults to "dark" theme as requested Replaced atrocious startup splash screen Search button on menu gives start page with search box selected Bug fixes More content More UI settings for Accessibility, including new "Pastel" theme with off-white background
New in Version 3.9.2.1
Synonyms and antonyms Additional words and corrections Bug fixes
New in Version 3.9
More up-to-date definitions for many words Cortana integration Bug fixes
New in Version 3.8.2
Approx. 60,000 words added Live tile fully supports Windows Phone 8.1 transparency
Version 3.8.1.2 Content Update
More words added. Minor bug fixes.
New in Version 3.8.1
Definitions contain example usage drawn from classical literature etc. Copy function to capture word, definition and favourites to use in other apps. Speak icon gives full definition Tap speak icon a second time to stop UI improvements Bug fixes to support Windows Phone 8.1
New in Version 3.7.5
Bug fix - Word of the Day tile Option to pin regular tile from settings page Review button in addition to feedback button on about pageNew in Version 3.7.5 Bug fix - Word of the Day tile Option to pin regular tile from settings page Review button in addition to feedback button on about page
New in Version 3.7:
Live Tile Pronunciation UI improvements Bug fixes